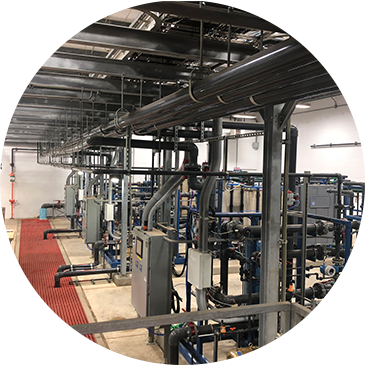 ELECTRODE DIALYSIS REVERSAL
With its new water treatment plant up and running, the city of Wolfforth said Monday it is in compliance with the Safe Drinking Water Act regulations. The improved water comes after the construction of a $6.7 million water treatment facility. The city's electrodialysis reversal plant, or EDR plant.  "We saw improvement in a lot of things," said Newsom. "People have come to me and said they've turned off their water softeners, they've turned off their treatment systems and things.
Usually we don't hear about things unless people are complaining about them, but we've actually had people tell us how much better the quality is.
ELECTRODE DIALYSIS REVERSAL IN WOLFFORTH, TEXAS

The overall goal of this project was to promote compliance using sound engineering and financial methods and data for PWSs that had recently recorded sample results exceeding maximum contaminant levels (MCL). The primary objectives of this project were to provide feasibility studies for PWSs and the TCEQ Water Supply Division that evaluate water supply compliance options, and to suggest a list of compliance alternatives that may be further investigated by the subject PWS for future implementation.
Reverse osmosis (RO) and electrodialysis (EDR) centralized treatment alternatives for fluoride and arsenic removal have been developed and were considered for this report. Pointof-use (POU) and point-of-entry (POE) treatment alternatives were also considered. Temporary solutions such as providing bottled water or providing a centralized dispenser for treated or trucked-in water, were also considered as alternatives. Developing a new well close to City of Wolfforth is likely to be the best solution if compliant groundwater can be found. Having a new well close to City of Wolfforth is likely to be one of the lower cost alternatives since the PWS already possesses the technical and managerial expertise needed to implement this option. The cost of new well alternatives quickly increases with pipeline length, making proximity of the alternate source a key concern. A new compliant well or obtaining water from a neighboring compliant PWS has the advantage of providing compliant water to all taps in the system.
Services We Provided
Capital program planning and management
Asset management
Comprehensive/land use planning and growth management
Development plan review
Downtown development district planning
Policy development
Engineering and design services
Streetscape and roadway improvements
Environmental compliance
Utility investigation and design
Resource management
GIS and database applications development
WHY CHOOSE OJD ENGINEERING
At OJD our broad range of professional experience in both civil engineering and surveying disciplines specialize in serving the needs of clients in government, business, manufacturing, construction, energy, and land development.
To make your projects successful, you want smart people who work hard to develop elegant solutions to the problems they encounter. You want people who understand your needs, share your vision, and will dedicate themselves to your goals. That's what we do. That's who we are. Put us to work and we'll show you what a Benchmark firm can do for you.
Contact OJD about working with us today!