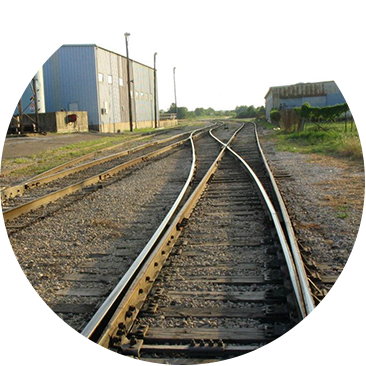 A railroad switch (AE), turnout, or [set of] points (BE) is a mechanical installation enabling railway trains to be guided from one track to another, such as at a railway junction or where a spur or siding branches off. The switch consists of the pair of linked tapering rails, known as points (switch rails or point blades), lying between the diverging outer rails (the stock rails). These points can be moved laterally into one of two positions to direct a train coming from the point blades toward the straight path or the diverging path. A train moving from the narrow end toward the point blades (i.e. it will be directed to one of the two paths, depending on the position of the points) is said to be executing a facing-point movement.
Unless the switch is locked, a train coming from either of the converging directs will pass through the points onto the narrow end, regardless of the position of the points, as the vehicle's wheels will force the points to move. Passage through a switch in this direction is known as a trailing-point movement.
RAIL TRACKS AND SPLIT

Services We Provided

Capital program planning and management
Asset management
Comprehensive/land use planning and growth management
Development plan review
Downtown development district planning
Policy development
Engineering and design services
Streetscape and roadway improvements
Environmental compliance
Utility investigation and design
Resource management
GIS and database applications development
WHY CHOOSE OJD ENGINEERING
At OJD our broad range of professional experience in both civil engineering and surveying disciplines specialize in serving the needs of clients in government, business, manufacturing, construction, energy, and land development.
To make your projects successful, you want smart people who work hard to develop elegant solutions to the problems they encounter. You want people who understand your needs, share your vision, and will dedicate themselves to your goals. That's what we do. That's who we are. Put us to work and we'll show you what a Benchmark firm can do for you.
Contact OJD about working with us today!